SeVae's Samoan Sapa Sui.
" The funny thing about making up our recipe was knowing what we wanted to put in it; But, we weren't sure of the measurements for each ingredient. However, I am a strong believer that since we both love to cook...I'm sure we'll be able to wing our way through. I mean after all...the Bible says, "Faith is the substance of things hoped for. The evidence of things not seen." However, I am also reminded that, "Faith without works is dead!" So, with this knowledge...it was now time to get up and put it into action. So...here we go. Get ready to get the crock out and join us on our journey as we bring this recipe into fruition! ( :
Ingredients:
Vegetable Oil
2 lbs. Pork, Chopped
Salt and Pepper, for taste
2 cans Chicken Broth
1 can Corned Beef (New Zealand)
4 Carrots, Julienned
5 celery, Chopped
1 large Onion, Chopped
5 Cloves of Garlic, Minced
6 pkgs. Vermicelli Long Rice
1- 1/2 Cups of Shoyu (If using Kikkoman...add less 'cause the flavor is much stronger)
1/2 Cup of Water
Instructions:
Soak the long rice in warm water and set aside.
Add vegetable oil to a skillet and heat. Add the garlic, pork, and add some salt and pepper for taste. Be sure to brown the meat completely.
Add the browned pork to the crock-pot.
Now add the Onions, Celery, Carrots, Soy Sauce, Water, and the Corned Beef to the crock-pot.
Mix the ingredients. Cover the Crock-Pot
Set on HIGH for 3-5 hours OR LOW for 5-7 hours.
Boil the Chicken Broth and then transfer the soaked Long Rice to the broth for approx. 10 minutes. Drain and set aside.
Within the last hour of the cooking time...add the Long Rice to the crock-pot.
Gently stir the ingredients until well incorporated.
Cover and cook until the hour is up. The Long rice will absorb most of the liquid.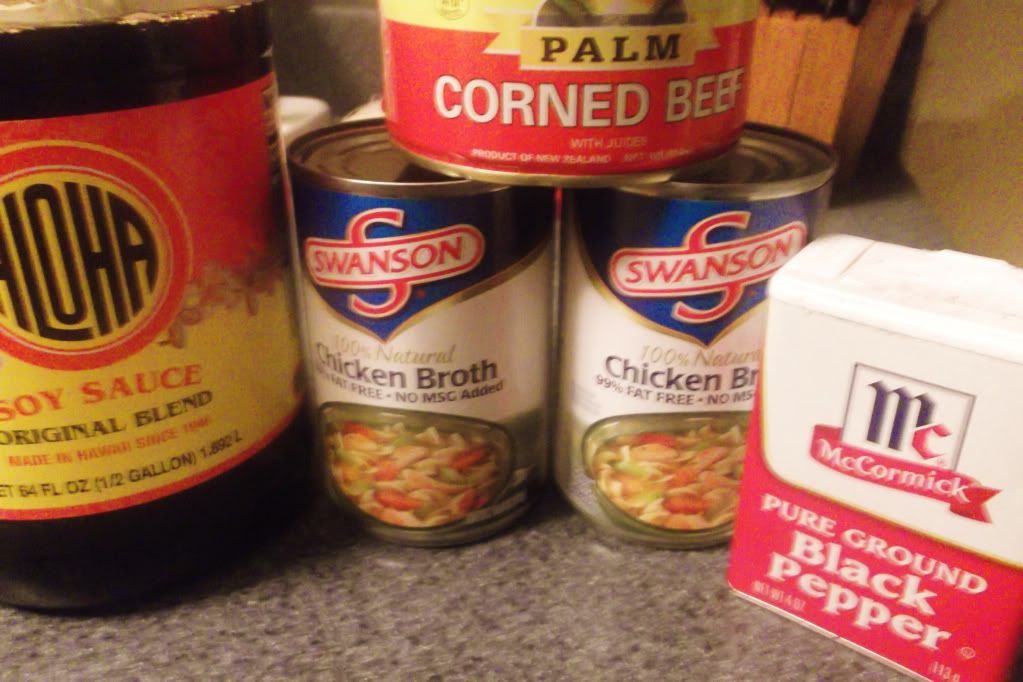 Shoyu, Chicken Broth, Black Pepper,
and Palm Corned Beef (New Zealand)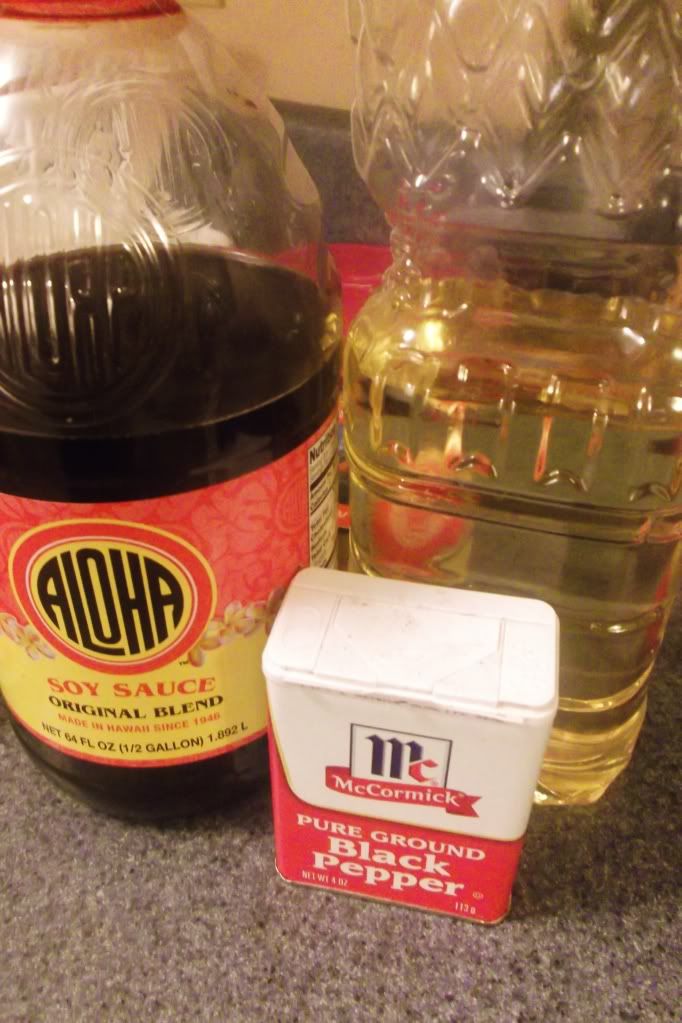 Sorry...the Vegetable
oil was late for the photo
shoot!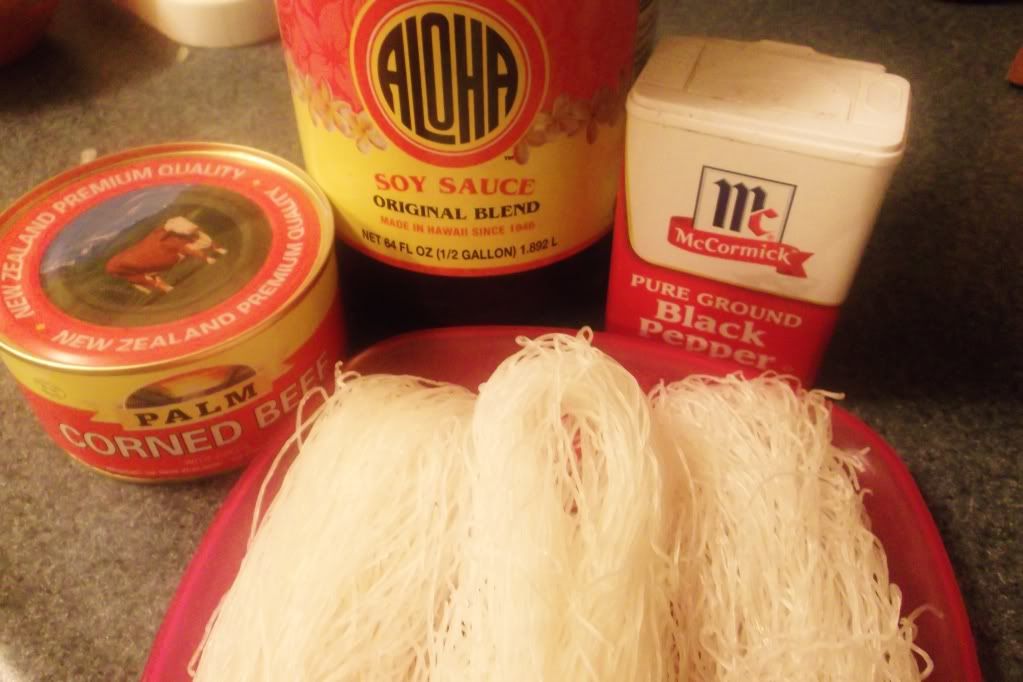 Here's the Vermicelli Long Rice.
Another one showing up late for
take picture.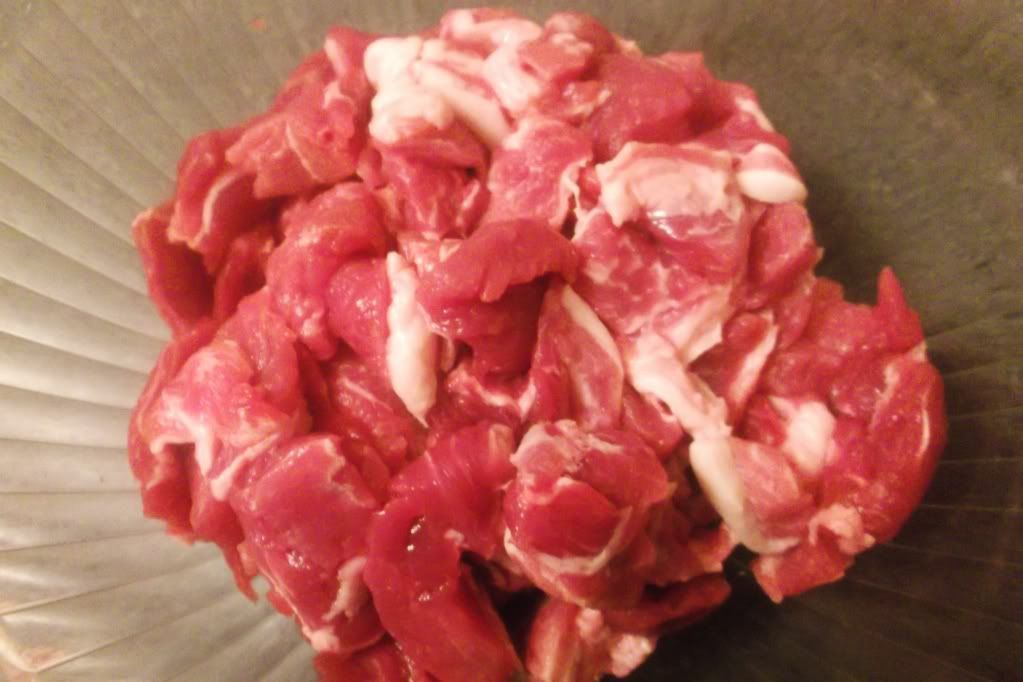 Two pounds of chopped Pork.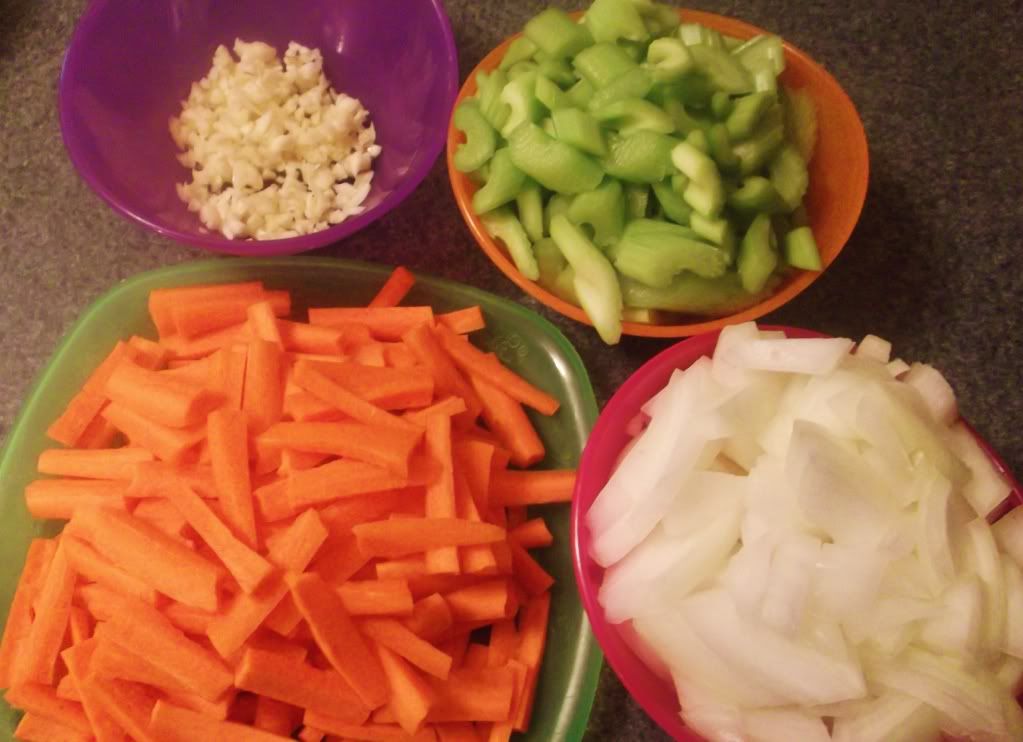 Minced Garlic, Chopped Celery,
Julienned Carrots, and Chopped
Onions
Soak the Long Rice
in warm water and set
aside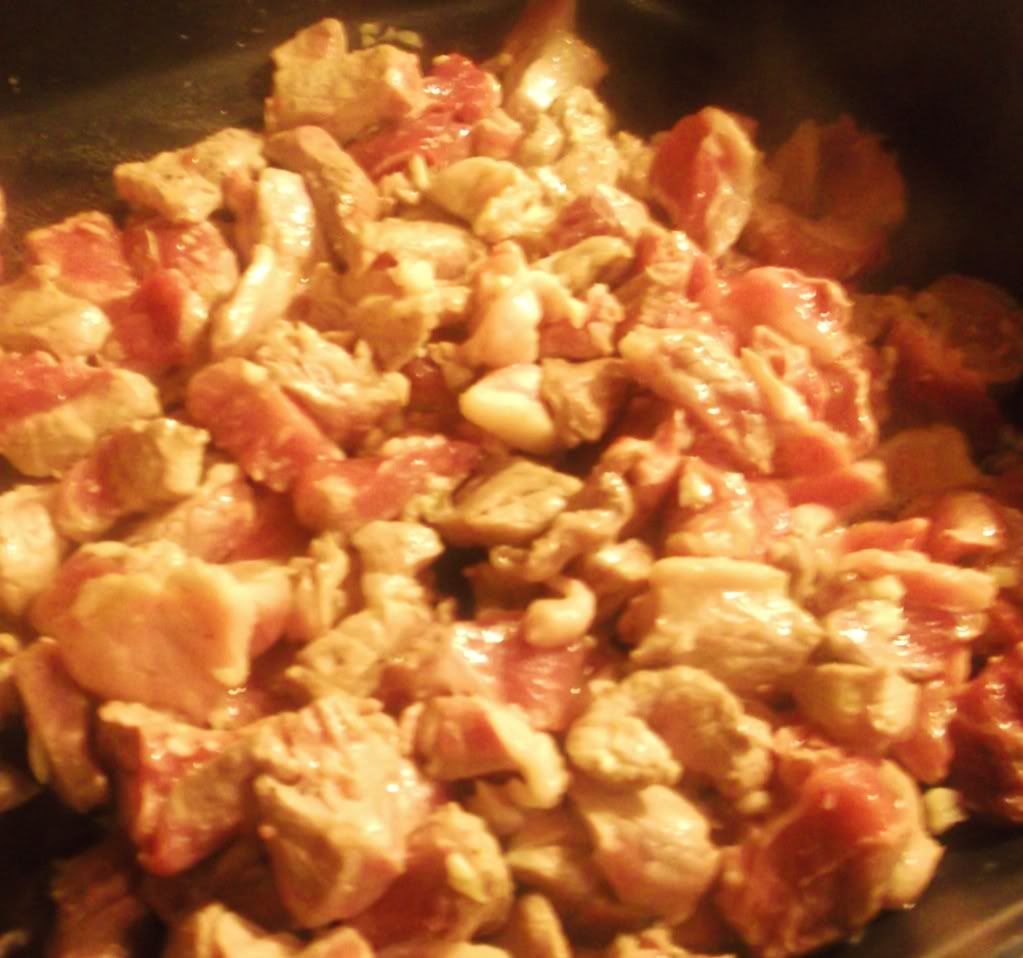 Add oil to the skillet and heat. Fry the
garlic and pork. Pinch of salt and
dash of pepper to the meat for
taste. Remove when meat is brown
and place into the crock-pot.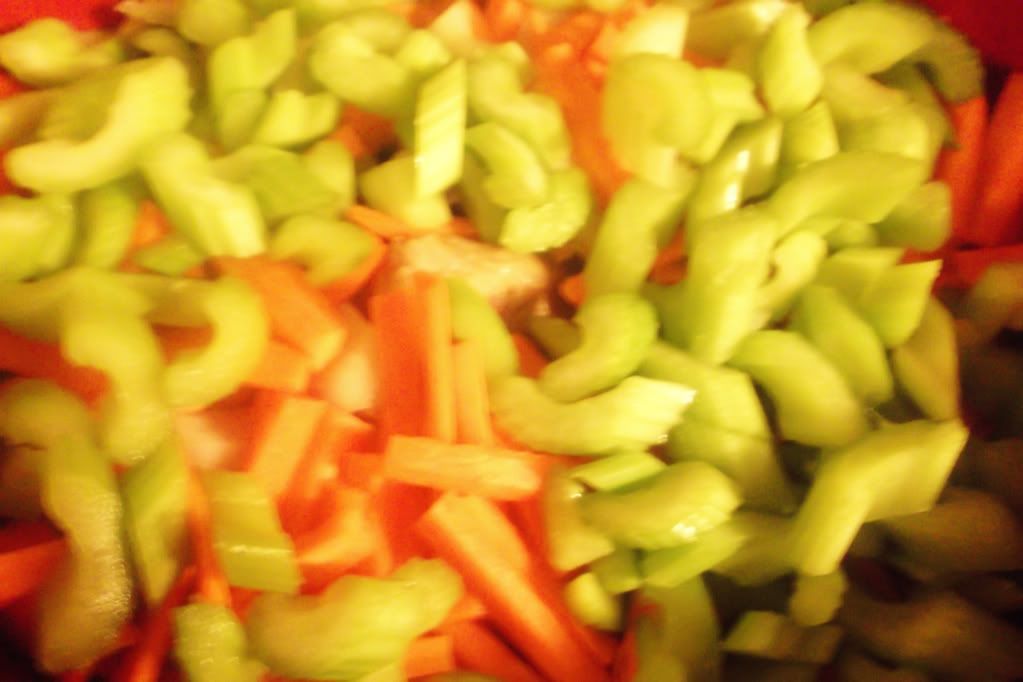 Add the onions, celery, and carrots
atop the pork in the crock-pot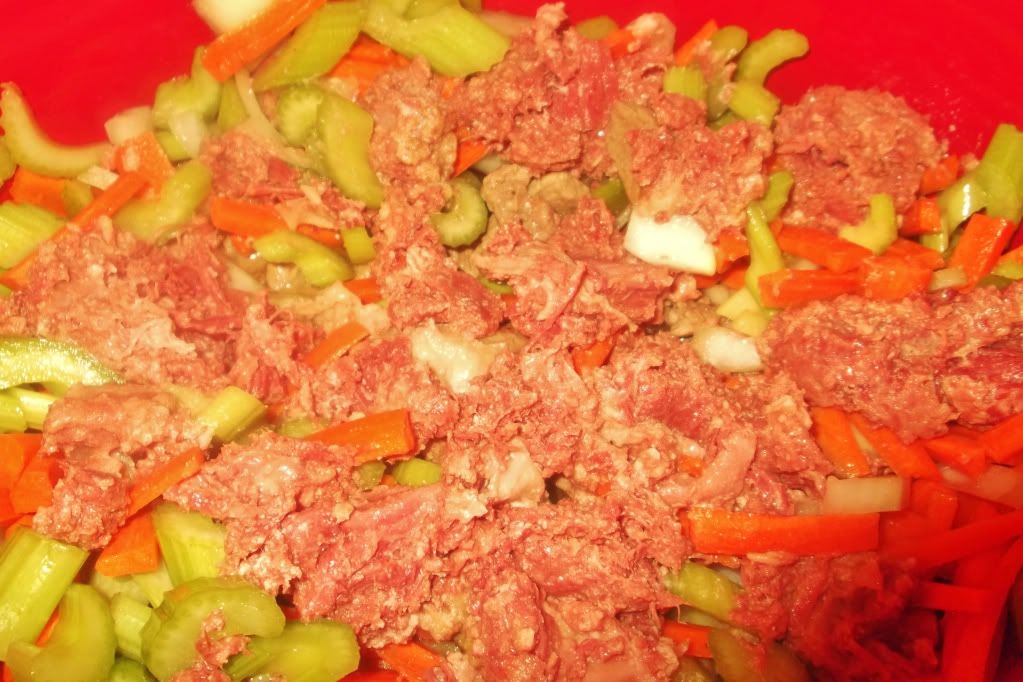 Add the corned beef atop the
veggie. Add the shoyu and water
to the crock-pot.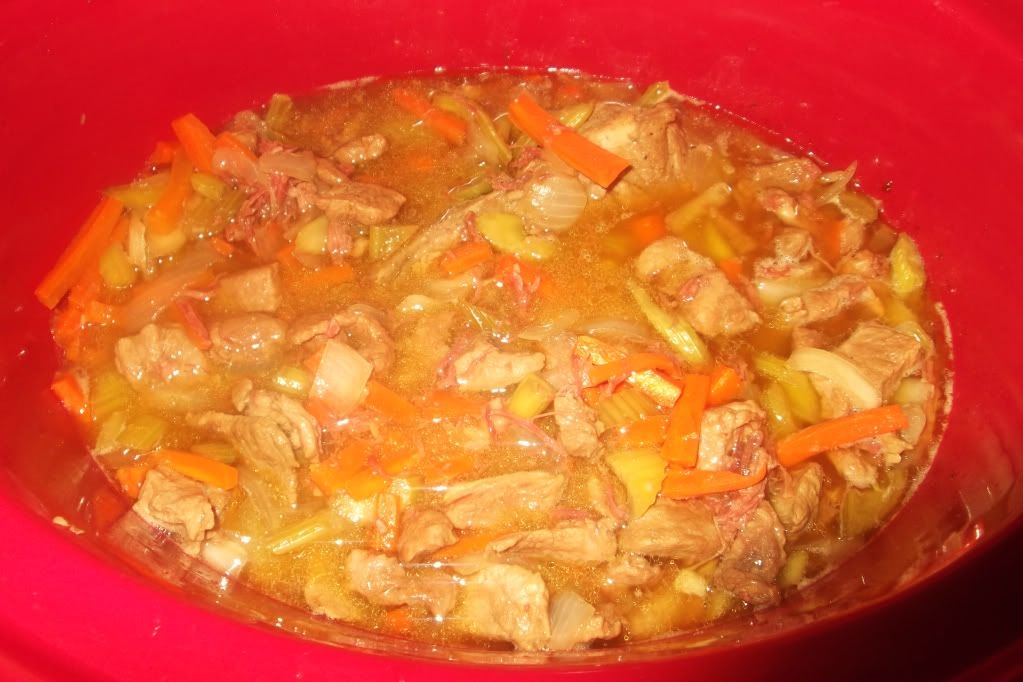 Stir ingredients and mix well. Cover
the crock-pot. Set on HIGH for
3-5 hours OR Set on LOW for
5-7 hours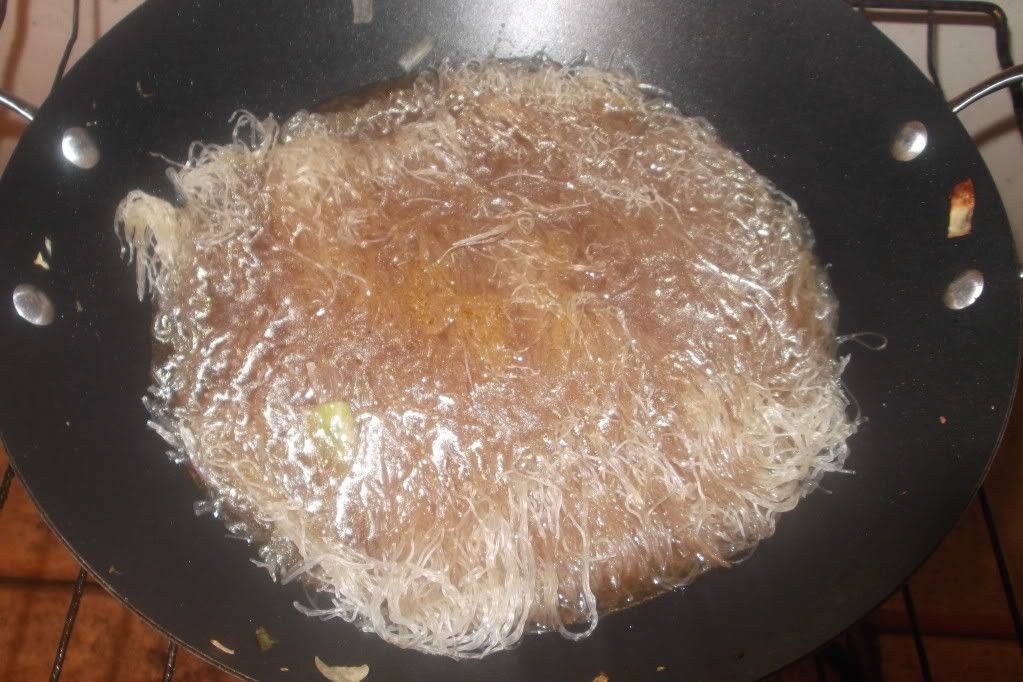 Boil the Chicken Broth in a pot. As
soon as it starts boiling...transfer the
Long Rice to the broth for approx.
10 minutes. Then add to the crock-pot
during the last hour of cooking.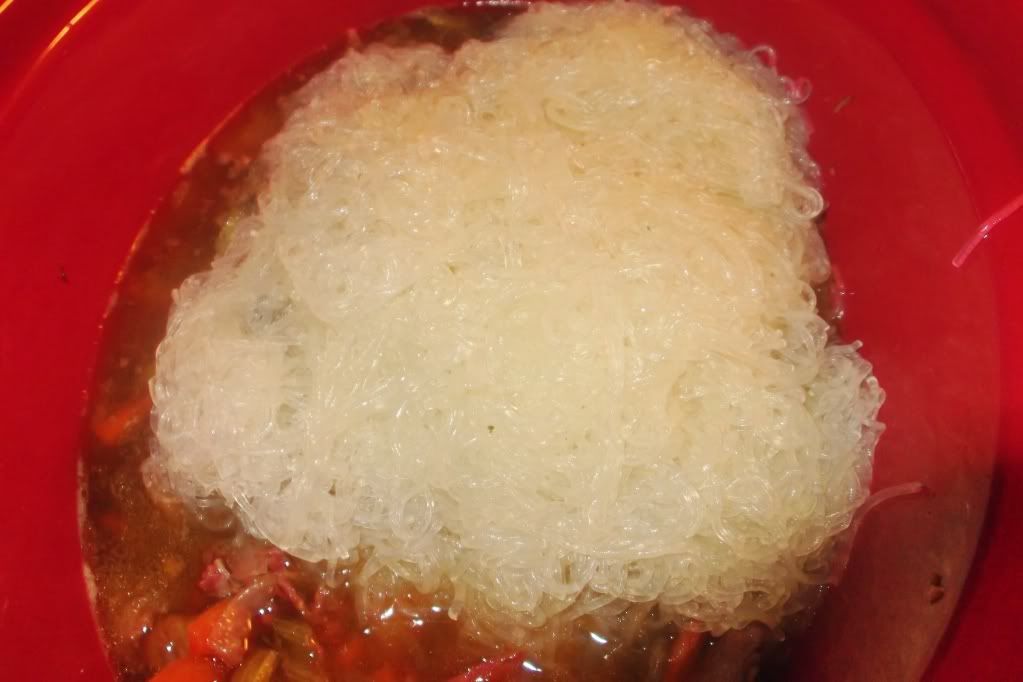 Gently mix the Long Rice with the
veggies and meat in the crock-pot.
After incorporating the ingredients,
Cover the crock-pot and let it cook
until the hour is up.
or Mac Salad and You're Done!
Could you imagine our surprise when "SeVae's Samoan Sapa Sui," was done? It turned out perfectly seasoned. No more shoyu was needed at all. What you see on the rice above is just a habit of mine; but, I soon found out that I shouldn't have added it. Vae and I was stressing a little 'cause my hubby doesn't measure and just likes to throw and pour. But this task was serious because I wanted everyone to experience a fail proof recipe. I am elated to say that joining forces with my husband in the kitchen has given me the confidence to take on any challenge.
I gotta say that there are many variations to cooking Sapa Sui. Some add cabbage, peas, corn, fresh or frozen vegetables. However, we wanted to keep it simple, yet, flavorful. We had to keep in mind that Sapa Sui is another way of saying, Chop Suey...so if adding too many things in to this great tasting dish, it could have turned into Sloppa Sui. So, that's why we kept it simple. However, it is up to you if you would like to dress it up more or even take it down a notch. You can make this YOURS. Be creative, inventive, and innovative. There can't be any wrong as long as you can find someone to eat and enjoy it with you. (Hahahahaha!) Please stay tune as our next dish will be, "Peppered Steak."