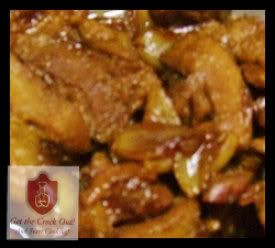 Thai Coconut Shrimp & Rice
" as promised. You see...I did make it and somehow was confused about converted rice and chose to use regular medium grain instead. Everything looked and smelled so tempting and had us anticipating an awesome dinner. But when the time was up--the rice was mushy; I was hoping that I could save this dish...but it was a definite, flatline. It looked like a hot crockin mess. So, I had laid it to rest and vowed to never visit it again. ( :
Alright...now that I've cleared the air on the failed dish, I needed to replace it with another. So, I decided on
"Pork Adobo."
I have personally tried and tested it in my kitchen using the stove. But, I have never tried cooking it in a crock-pot. Honestly, after being defeated by the previous recipe...I did have my fingers and eyes crossed on this one. But yet, I felt this is a fail proof recipe. I don't believe anyone could mess it up. It's either that...or I am in denial. (Lol!) Anyways...here I go again. I'm about to release the crockin once more.
Ingredients:
1-1/2 pound of Pork Butt or Chopped Pork
1/4 Cup of White Vinegar **If you want...you could add 1/2 Cup to kick it up a notch
1 Clove of Garlic, chopped finely
1/3 Cup of Soy Sauce
1 Cup Water
1 teaspoon Whole Peppercorn
2 pieces of Bay Leaves
Directions:
If using Pork Butt...you can just add it to the crock-pot. However, if you're using Chopped Pork...You might want to brown it in a skillet first.
Add the remaining ingredients and gently stir in to mix.
Cover the crock-pot and set on LOW for 6-7 hours
OR set on HIGH for 3-4 hours
Vinegar, Bay Leaves, Soy Sauce,
Garlic, and Peppercorn.
(Use Whole Peppercorn)
Pork
Simply add all ingredients to the
crock-pot
Gently mix/stir the ingredients
until incorporated. Please do
not grind peppercorn. (lol)
Cover and set on LOW for 6-7 hours
OR
set on HIGH for 3-4 hours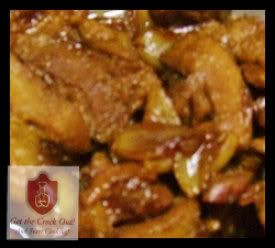 Now it's ready to be poured over
hot rice or served with Pancit.
Enjoy!
I learned the hard way. You see...the reason I stressed the importance of whole peppercorns is because my husband bought the one that you can grind. And because I didn't know how to open the lid...I grind the dang thing. Next thing I know...it somewhat changed the taste of the Pork Adobo. Now the shocker is that it still tasted very good. I mean my Grand-babies ate it all; Meanwhile, the two year old was busy saying, "Yum Mama!" To me...the 1/2 cup of vinegar was a wee bit too much for me; Yet, when cooking it on a stove-top...it works just fine. So be sure to add the vinegar according to your preferred taste. ( :
My family and I did still enjoy this dish and would tweak it just a bit according to our preferred taste and I just want you to know that you can too. The best part about this particular dish is that you can cook it on a stove. Just add oil to a skillet and fry the pork until browned and then add the ingredients and wait til it boils, simmer for 20 minutes until most of the juice is absorbed than add a little more water, then cover and simmer until pork is tender and all the juice is absorbed. Trust me when I say...this recipe is totally fool proof. Please stay tune as our next dish will be,
"SeVae's Samoan Sapa Sui."
Thank You,